Match Preview – New Zealand vs Pakistan, World Cup 2019, 33rd match
|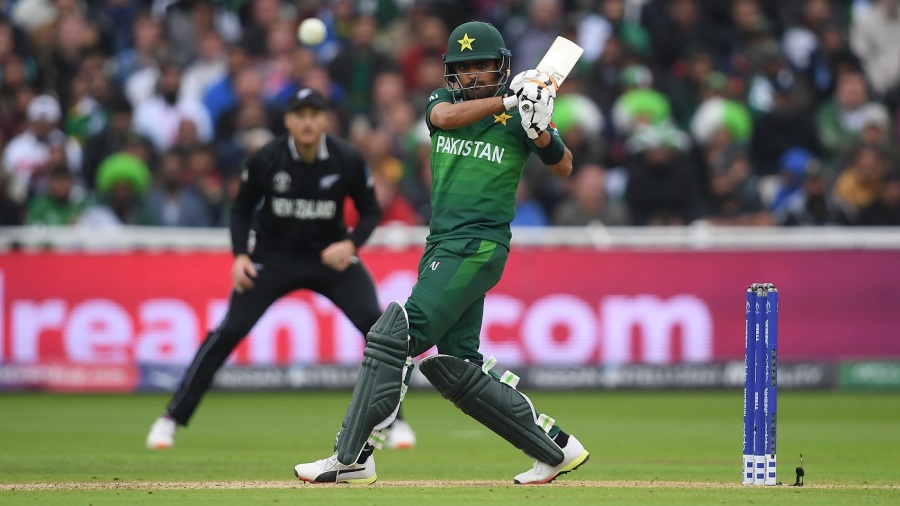 Big Picture
The action shifts to Birmingham next, with New Zealand and Pakistan facing off in a game of very high stakes. It's the seventh game for both sides. New Zealand have 11 points, and Pakistan five. That might feel like two ends of a spectrum, but New Zealand aren't quite in the final four yet, and Pakistan aren't out of the race either.
Few things better illustrate the inexorable march of modernity in cricket and the benefits of embracing it – or the cost of falling behind – as a fixture between New Zealand and Pakistan. Little New Zealand, tucked away in a pretty little corner of the earth, the teacher's pet; they were to the Spirit of Cricket award what Daniel Day Lewis is to the Oscars. Up against devious and more naturally gifted Pakistan throughout the last quarter of the last century, they would come up short. They did things by the book, understood their limitations, respected the opposition and won admirers. Pakistan managed none of those things, but time and again, they made sure they put it past New Zealand.
Points table
But New Zealand, among the first to embrace the possibilities that attacking, positive cricket held for their natural style of play, have seen the foundations they set turn that tide. Remember the experiment of moving Brendon McCullum to open the batting just before the 2007 World Cup? It resulted in a whitewash of Australia in the Chappell-Hadlee Trophy in February that year, still the only time they have pulled off a clean sweep. They made the semi-finals of that World Cup and at least that stage in each edition since. They have won 18 off their last 20 group stage games at World Cups, spanning four competitions. They have beaten Pakistan in 12 of their last 13 ODIs. There was a time when Pakistan were the bullies; now, when New Zealand show up, it's Pakistan who have to look for a place to hide; they are running out of those too.
In the time New Zealand have made these strides, Pakistan have stayed largely motionless, though the current coaching team have made some headway in trying to change that. Fitness is no longer the joke it was before Mickey Arthur and Steve Rixon got together, though it's worth noting that New Zealand's yo-yo test is the most challenging, while Pakistan's ranks among the more forgiving ones. Fielding, an area which had seen standards soar in 2018, has slumped significantly once more; Pakistan have dropped more catches this tournament than any other side, including half a dozen in the game against South Africa.
ALSO READ: The World Cup of Mohammad Amir, the nerd
For Pakistan, the old tales still hold sway. After every game, WhatsApp conversations and email threads circulate like digital clutter, cherry-picking numbers to show how spookily similar this World Cup is to the one in 1992 (uncannily so, in case you're wondering). The 'unpredictable' tag still holds romance, as does the idea of squeezing into the semi-finals almost like the breathless dash after the train has left the station, rather than marching into it. Pakistan's fans have acquired a taste of living in the brink, and this World Cup, they're getting a full dose of that drug.
The win against South Africa might have buoyed both fanbase and players alike; the demands for wholesome institutional and domestic reform have been shelved for one late push, with the belief that the dice is starting to roll in their favour. With games against Bangladesh and Afghanistan to close out the tournament, this remains Pakistan's obstacle to a proper crack at the most unlikely semi-final berth. It is unlikely, it is low-percentage, it is perhaps even undeserved. Pakistan wouldn't have it any other way.
play4:06Misbah feels Birmingham conditions will suit Pakistan well
Misbah-ul-Haq looks ahead to Pakistan's match against New Zealand on Wednesday
Form guide
New Zealand WWWWW (Last five completed matches, most recent first)
Pakistan WLLWL
In the spotlight
It all went according to plan in the first game with a 137-run stand, but since then, New Zealand's opening pair of Martin Guptill and Colin Munro hasn't done the job their role demands. Guptill, who was the highest scorer at the 2015 World Cup, has scored 25, 0, 35 and 0 in the four innings that have followed. Against South Africa, the only game he appeared to have rediscovered his mojo, he found a way of swivelling on the crease for a pull shot, and then, like an ice skater who attempted one pirouette too many, lost his balance and trod on his stumps. Munro has been found similarly wanting, with 55 runs in four matches. Kane Williamson's superlative form and Ross Taylor's reliability have helped, particularly against West Indies where both openers were dismissed for golden ducks, but runs from the top two is a more sustainable way to a competitive batting score.
After one senior player was dropped, probably for good, in Shoaib Malik, Mohammad Hafeez may feel the hot breath of Asif Ali on his neck when he next comes out to bat. With Pakistan having found a way of squeezing Imad Wasim into their side, Hafeez's role as a bowler is somewhat diminished, so it is with the bat that he must continue to make a case for inclusion in the XI. With 175 runs in five innings, he hasn't exactly been out of form, but the manner of his dismissals, and the frequency with which he throws away starts, can exasperate. Against Australia, he holed out to deep midwicket at a crucial moment in the chase off a knee-high Aaron Finch full toss, while Aiden Markram snared Hafeez in the last game. With Pakistan playing without the power-hitting that Asif can offer and Hafeez occupying the crucial No. 4 slot, the onus is on him to prove it is a responsibility he is the right man for.
A semi-final spot looks unlikely for Pakistan; they wouldn't have it any other way Getty Images
Team news
New Zealand have not made a single change in the tournament so far, and Kane Williamson said after the thriller against West Indies that they had no plans to rest players. The only question hangs around Matt Henry, who endured a difficult day with the ball in the last game. Tim Southee will be itching for some game time.
New Zealand (probable): 1 Colin Munro, 2 Martin Guptill, 3 Kane Williamson (capt), 4 Ross Taylor, 5 Tom Latham (wk), 6 Colin de Grandhomme, 7 Jimmy Neesham, 8 Mitchell Santner, 9 Matt Henry/Tim Southee, 10 Lockie Ferguson, 11 Trent Boult
Pakistan have found success with Haris Sohail at No. 5, and appear to have finally found a way of accommodating six genuine batsmen with five proper bowlers. It is unlikely, after their best ODI performance since January, that they will make changes to that combination.
Pakistan (probable): 1 Imam-ul-Haq, 2 Fakhar Zaman, 3 Babar Azam, 4 Mohammad Hafeez, 5 Haris Sohail, 6 Sarfaraz Ahmed (capt & wk), 7 Imad Wasim, 8 Shadab Khan, 9 Mohammad Amir, 10 Wahab Riaz, 11 Shaheen Afridi
Strategy punts
Pakistan should bring on Shadab Khan when Colin de Grandhomme comes in to bat. He averages 53 against Pakistan, but has scored 0 and 3 in his last two innings against them. Both of those dismissals were effected by Shadab, against whom the allrounder averages a mere 7.
Target Shaheen Afridi. While Wahab Riaz, Mohammad Amir and Imad Wasim have all kept things tight, Afridi's diminishing form represents an opportunity for New Zealand. In his first ten ODI innings, he took 19 wickets at 19.4 and an economy rate of 4.6. In his last five innings, his average is 46.1 and his economy rate 7.7.
Pitch and conditions
Rain on Tuesday has meant the pitch remained under covers all day, so what it looks like on matchday is a bit of an uncertainty. No precipitation is expected tomorrow, though a significant cloud cover should give swing bowlers an added layer of potency.
Stats and trivia
New Zealand's Nos. 3 and 4 – Williamson and Taylor – have amassed a combined 573 runs between them, while their top two have scored just 246.
Guptill is 58 runs away from becoming the second New Zealander to score 1000 runs in World Cup matches after Stephen Fleming.
Mohammad Amir has taken two or more wickets in all five matches so far. Never before in his ODI career has he managed multiple wickets in more than three consecutive games.